Is your sweetie a sexy chef, fanatic foodie or Diners, Dive Ins and Dives darling?  Chop the boring old predictable Valentine's Day and take your boo to find the best thing they've ever eaten with Culinary Fight Club's "The Savory Chocolate" event.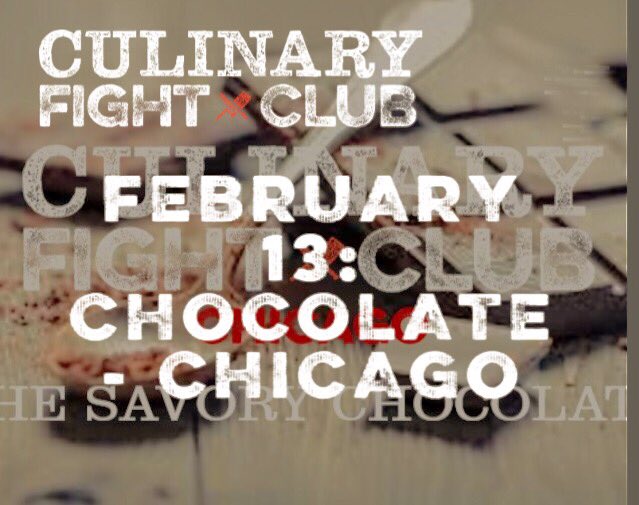 What: At Culinary Fight Club, you and your sweetheart will be treated to 4 chefs (amateur AND professional) competing for the hearts and mouths of the audience in this Iron Chef style competition.  The main ingredient this month is our  preferred aphrodisiac, CHOCOLATE!!  Chocolate is the food of love and we could all use a lil' more love now!
How it Works: (Description from Culinary Fight Club) Contestants or Teams have (60) minutes to impress (3) judges, using (1) 10k BTU Burner and (15) supplied raw ingredients & (3) surprise ingredients, all to be judged on that one perfect bite!  Hungry?  Don't worry there is also a Taster's Choice Award too!  So attendees are encouraged to grab a tasting spoon, dig in and vote for their favorite bite!
Charity Partner: Fill your heart with the knowledge that you're helping more than just yourself! 20% of all Culinary Fight Club Chicago events go to feeding hungry people in Chicago through Fight2Feed, a charitable Organization on a mission to "KO" hunger One Block at a Time.
When: Monday, February 13th 6:00-9:00 p.m.
Where: Lucky Strike, 322 E. Illinois, Chicago, IL 60611
Includes: 2 hours of beer or wine and snacks from Lucky Strike including savory chocolate bites for you and you doll-faced dear.
Think of all the kisses your culinary cutie will bestow upon you when you get your tickets here!
Don't live in Chicago?  Don't feel salty! You can find Culinary Fight Club in Kansas City, Atlanta and Montgomery in February and 6 cities in March.